We're excited to have both our start and finish lines for Sunday's events in downtown Green Bay. Runners are advised to park on the east side of the Fox River to be close to the start line. See the map below for where parking is and is NOT available on Sunday, May 19. As always, plan to arrive early to eliminate the stress of navigating runner traffic.
Note that you cannot approach the start area from Dousman St./Ray Nitschke Memorial Bridge.
Runners are advised to be in their corrals a half hour before the start of their race.
Please be aware of posted no parking areas and businesses that will be open on Sunday during the race.
Additional street parking, not marked below, is also available in the area.
Ramp and street parking in Downtown Green Bay is free on weekends.
Coming from out of town? Our partner hotels will have participant and spectator shuttles available on Sunday, May 19. For a full listing of our partner hotel shuttle schedule click here.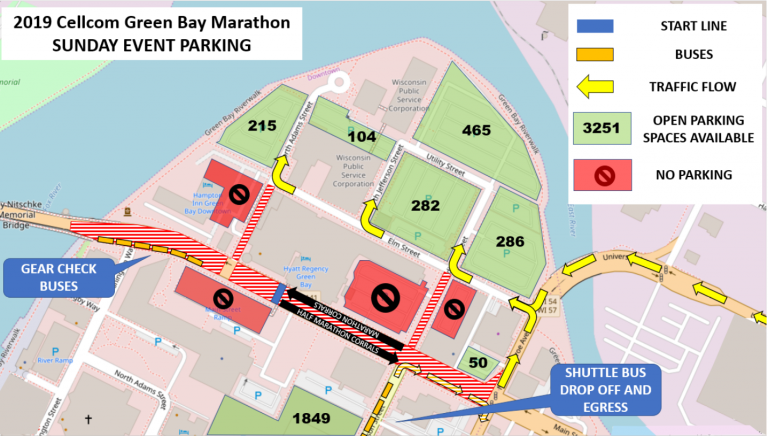 On Saturday, May 18 parking for the Cellcom 5K and WPS Kids' Power Run will be available at Lambeau Field in the lots on the southwest, northwest and northeast corners of the stadium. Parking is not available in the southeast corner of the stadium lot due to our event footprint.
If you are picking up your packet or registering on Friday, May 17, we strongly encourage you to utilize the northwest lot off Ridge Road and enter the stadium through the Miller Lite Gate. There is no charge for parking in the stadium. There are other events taking place in the stadium district this evening that will be utilizing the stadium lots.